Are Stress And Anxiety Disrupting Your Relationships or Personal Life?

Are you someone who is struggling with a sense of fear and self-doubt as a result of a difficult break-up or some other relational wounding in the past? Do you feel so compelled to be perfect and please everyone that you have trouble setting boundaries or communicating your needs — whether to parents, friends, or romantic partners?
Perhaps you are a college student or recent graduate entering the work field who is overwhelmed by the stress of choosing the right career or partner and you need some impartial guidance. Or, maybe you are so consumed by negative thoughts and incessant worry that you can't focus at work, sleep at night, or even connect with others in a meaningful way.
Anxiety has a subtle way of disrupting life that isn't always obvious, especially if you are navigating the uncertainties of the future. For instance, you may be so stressed out by the sheer pressures of the world — juggling personal aspirations, dating, professional goals, and familial expectations — that you feel conflicted and trapped.
You're probably so hard on yourself that you feel like you are your own worst enemy. And the inability to feel safe and secure in who you are is likely causing low self-esteem, low self-worth, or even depression. At this point, you're probably just looking for a way to find peace and a little security in knowing that you are safe — and you are loved.
As a therapist and the founder of Inward Healing Therapy, I understand that overcoming anxiety on your own can be difficult. However, with the guidance of my compassionate and empathetic support, I truly believe you can find greater fulfillment in your professional, spiritual, and romantic life.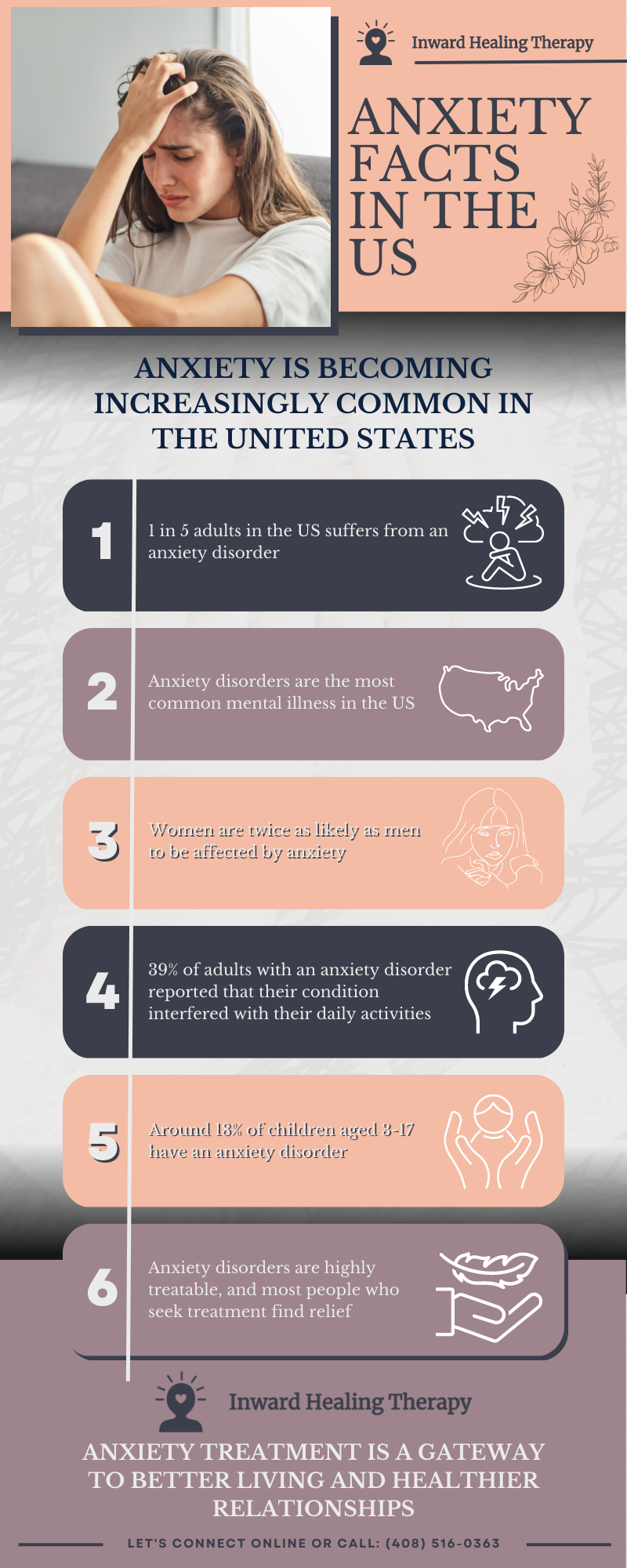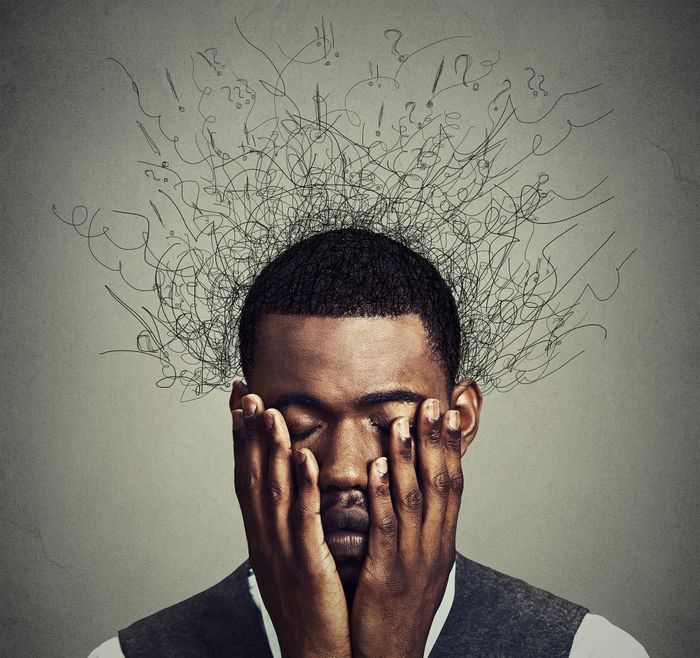 Anxiety Is Becoming Increasingly Common in Young People's Lives
Everyone, regardless of their age, experiences anxiety — and more specifically, relationship anxiety. A growing reason for that is that society, technology, and our culture have changed drastically in a short time. That's especially evident in the world of social media, online dating, and our 24-hour news cycle.
As a result, many teenagers, college students, and young adults feel obligated to compare themselves to the seemingly perfect lives of their peers. Everyone's information is accessible to anyone, yet no one is really connected anymore. The news churns out sensational stories every moment of every day, causing stress and concern. And, the fear and uncertainty of COVID-19 are continually having a major impact on mental health nationwide.
Unfortunately, most young people lack the resources and skills needed to manage anxiety symptoms and improve their relationships independently. Although family and friends can be powerful sources of support, they don't always have the emotional bandwidth or knowledge to be there when needed.
However, anxiety counseling at Inward Healing Therapy offers you all the space, emotional support, and time you need to share your story and heal. With my guidance, you can discover the source of your pain, challenge negative notions about yourself, and learn new ways of coping with anxiety.
Anxiety Treatment Is a Gateway To Better Living and Healthier Relationships
Worrying about what your future is normal. However, if stress and anxiety are eating away at the joys of your present life, it may be time to ask for help. Working with an experienced anxiety counselor gives you a chance to share your thoughts and feelings with someone you can trust — someone who is dedicated to your continual growth.
Online anxiety counseling also allows you to explore your core beliefs, reduce negative thinking, and develop practical skills for managing symptoms. In time, you can learn to truly understand what fuels your emotions so you can support yourself through future challenges.
Prior to your intake session, I'll have you fill out a questionnaire relevant to your situation — whether it's the Beck Depression Inventory, Generalized Anxiety questionnaire, or the PTSD scale — to give me a starting point for treatment. Then, in our initial meeting, we'll focus on building a rapport with each other and ensuring that you have a warm and supportive environment in which I can develop a complete picture of you and your life.
Together, you and I will gently explore your upbringing, any traumas, past relationship conflicts, medical history, or anything else that may inform how I can provide the best support. Though anxiety treatment can be intimidating for some, I want you to know that you are in control every step of the way. I'll never pressure you to talk about anything you don't want to. In sessions, if you need to drink water, squeeze a stress ball, or even color in a mandala coloring book for relief — it's perfectly okay.
One of my primary goals is to help you understand the core of your anxiety issues and, in turn, learn more about yourself so that true healing can occur. To accomplish that, we'll explore aspects of your childhood that may provide valuable insight into why you function the way you do now. As we discuss areas of concern, I'll examine your thoughts and feelings, looking for possible connections to childhood memories.
And if it sounds like something that speaks to you, I can also teach you visualization exercises to reinforce positive beliefs/thoughts about yourself and your life. I'll teach you deep-breathing exercises, grounding techniques, and progressive muscle relaxation to help you stay calm when stressed, anxious, or overwhelmed by racing thoughts. In the process, you'll learn how to sit with your emotions and interpret the true meaning of what they are trying to tell you.
One of the tools I use for treating anxiety is cognitive behavioral therapy (CBT), which enables clients to identify and transform negative thought patterns into healthier perspectives. Dialectical behavioral therapy (DBT), another anxiety treatment option, focuses on improving emotional regulation, mindfulness, distress tolerance, and interpersonal effectiveness. I am also integrating a technique into my approach called brainspotting, which is particularly helpful for addressing anxiety related to trauma and PTSD.
I truly believe that whatever you desire for yourself is completely attainable. Though healing and growing can be a gradual process, with the right support, you can learn about yourself while simultaneously unlearning hurtful ideas that you may have unconsciously adopted in the past.
Whatever your goals are — having a satisfying career, a fulfilling relationship, closer friendships, or inner peace — I'll support you in getting there.
Perhaps you are considering anxiety treatment but still have some concerns…
I am worried about the cost of anxiety counseling.
My rates are reasonably priced, especially for the Santa Clara area, so investing in your mental health doesn't have to break the bank. Plus, despite the out-of-pocket cost it may incur, using a private practice can be more effective, as my appointments tend to be more stable and consistent versus agencies with high turnover rates.
That said, if you have an eligible diagnosis and your insurance provider covers out-of-network mental health services, you can potentially be reimbursed for a portion of your session.
I'm worried my therapist won't understand my anxiety.
I will strive to meet you wherever you are in your suffering — both mentally and emotionally — by genuinely getting to know you and how anxiety is affecting your life. That said, I also take a realistic approach to therapy, which means I don't pretend to have all the answers. However, using years of academic development and professional experience, I am certain that I can support you in discovering the answers within that will benefit you the most.
Does anxiety treatment really work, or are we just going to talk about feelings?
Discussing thoughts and feelings is an integral part of therapy. But that doesn't mean our sessions are all talk and no walk. I'll teach you how to communicate better, set healthy boundaries, and advocate for yourself unapologetically. I'll offer you powerful grounding techniques for managing stressors and increasing your tolerance to distress. I'll also teach you self-compassion to help you see yourself in a kinder light, eliminating the specter of negative self-talk. In the process, you'll be taking concrete steps toward safeguarding your mental health and overcoming future challenges on your own.
You Don't Have To Let Anxiety Define Your Life
If you are ready to free yourself from stress, fear, and self-doubt, I can help. Please call (408) 516-0363 or use my contact page to set up your free, 30-minute consultation to ask questions, discuss your experiences, and see how online anxiety treatment may be able to help you find greater peace.